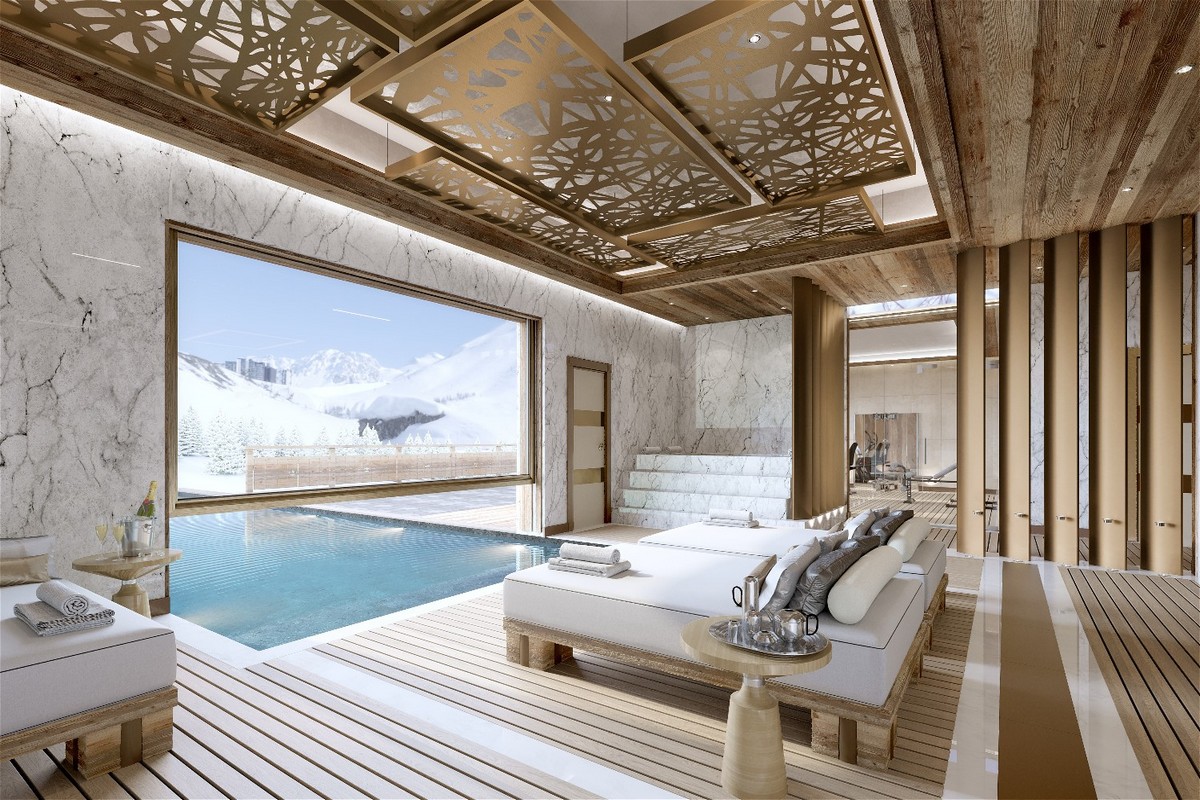 This unique property of over 3700m2 will be composed of 13 chalets, 2 restaurants as well as two spas with inside- and outdoor pool, sauna, hammam and jacuzzi. Situated in the Belvédère neighborhood, Ultima Courchevel opened its first phase in December 2019.
Each endowed with 4 master-suites with connecting bathrooms and dressing rooms, the chalets of this luxury village offer all the signature services related to the fleur-de-lis brand. A concierge, a chauffeur, housekeeping governess and even a private chef, all at disposal to ensure guests a five-starred service in the intimacy of a gorgeous chalet.
With the quality and design obvious to the eye, Ultima Courchevel will maintain the codes and visions of the concept of the brand. The most rare and prosperous materials have been meticulously selected to create a cozy and ultra-luxurious atmosphere for the guests in this limitless complex. The wood blends in perfectly with the leather, the nubuk, and the prestigious fabrics of each decorating element. Everything has been worked together and aligned in order to create the feeling of being at home with the highest level of comfort: major bronze covered chimneys, chesterfield leather bed heads, marble bathrooms and delicate fabrics.
Additional to the traditional hotel services, each Ultima establishment proposes a whole collection of 5 starred-services; the kitchens are signed by the biggest star chefs and restaurants, house linenis personalized with the client's initials, and even helicopter or limousine transfers to and back to nearby airports.
The Ultima properties also offer clinical services from the Ultima Clinic, all on demand. Clients can hereby benefit from the latest technologies of unique treatments whether for detox purposes or from our cellular revitalization programs during their stay.
Founded by Byron Baciocchi and Max-Hervé George, Ultima Collection opened its first hotel and residences in 2016 in Gstaad. A super luxurious five-starred superior hotel, composed exclusively of suites and residences, the Ultima Gstaad managed in a spread of only two years to impose itself in the very competitive hotel niche market and win numerous awards such as "Best Mountain Hotel" by Prime Traveller Magazine as well as "Trendsetter Hotel of the Year" by GQ Travel.
In 2018, the brand officially launched its collection of residences, hotels and villas, by announcing the opening of its private chalet concept in Crans- Montana. Additional properties in the unique Ultima design will be launched throughout the next couple of years. The brand, which rapidly developed, has a vision to open properties in the most beautiful and important locations across Europe. The Ultima Collection gets its name from the first hotel of the series which managed to obtain the very last hotel construction permit in the famous ski station, Gstaad, in the Bernese Alps.
@Ultima Collection