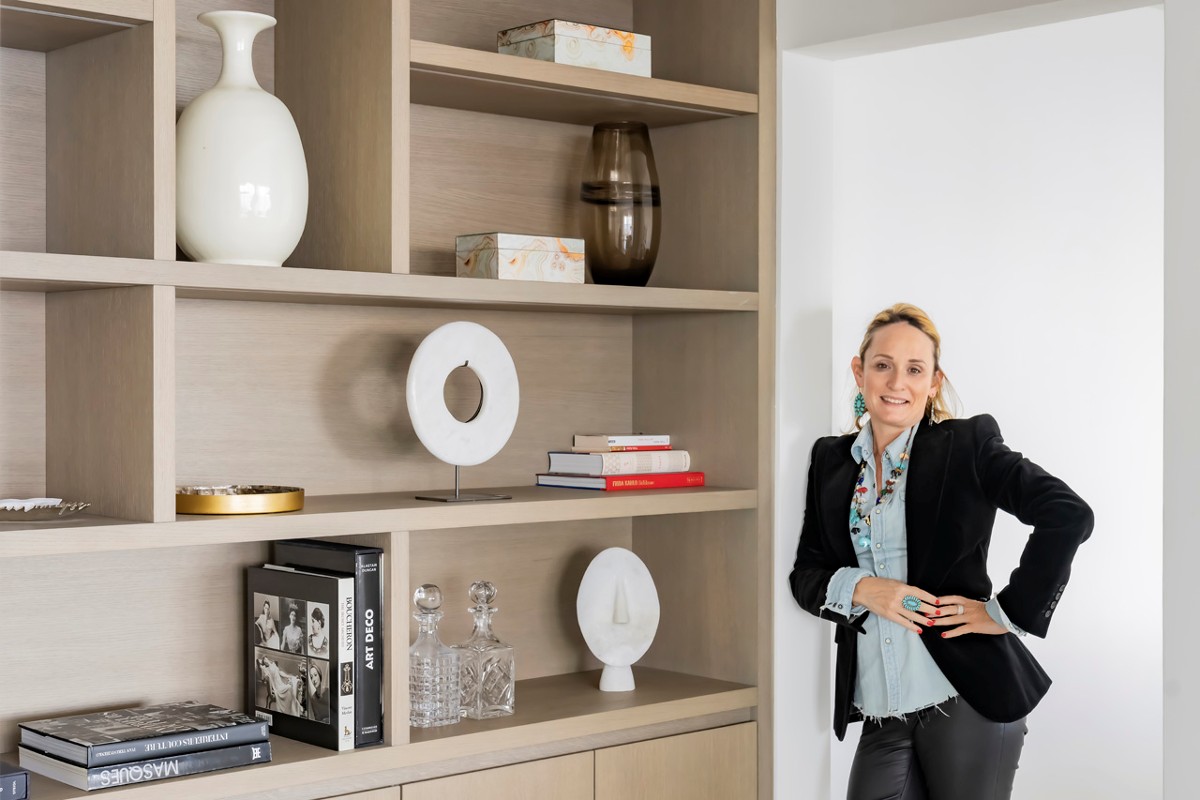 The interior designer, Nathalie Ludwig, has just finalized her latest project in Cannes in a renowned residence. In the upscale Californie-Pezou neighborhood near the city center, this new apartment has been entirely designed and decorated by Nathalie Ludwig.
With a surface area of approximately 300 m², the apartment offers its guests five bedrooms with bathrooms, two kitchens, a living room and a dining room. There is also a magnificent terrace overlooking the bay of Cannes.
As this is a vacation apartment, priority was given to coolness in order to make the most of the hot days in the South of France. Nathalie Ludwig wanted to offer an apartment that was easy to live in and maintain.
To achieve this, everything was renovated from a technical point of view, from the air conditioning, electricity, heating system and plumbing to the lighting and the custom-made interior decoration.
In order to propose a personalized project, Nathalie Ludwig designed and realized all the custom-made woodwork, including the oak bookcase, the doors, the dressing rooms, the kitchen. All the bathrooms are equipped with materials such as ceralite and silestone for easy maintenance.
Nathalie Ludwig has also surrounded herself with exceptional brands for the furniture such as Elitis beds, Corian bathrooms, THG faucets, Meridiani sofas, Casadisagne and Visual Confort lighting, Calico wallpapers, Eichholtz and JNL furniture and Manutti outdoor furniture.
About Nathalie Ludwig
Of Franco-German origin, Nathalie Ludwig has been living in Mougins, near Cannes, for nearly 8 years. Combining Germanic rigor and the famous French Touch, she creates exclusive, custom-designed, turnkey spaces for a mostly foreign clientele.
Elegance and comfort are the key words of a person who knows how to combine erudition and well-being, modernity and tradition, to renovate or decorate the most beautiful private residences of the Riviera.
Profoundly gifted and endowed with a subtle taste, Nathalie Ludwig is passionate about beauty and details and loves to bring rooms to life. Rigorous and extremely organized, she is also a great listener to perceive and decipher the wishes of her clients, often very demanding.
Thanks to her double culture and perfect English, she can easily communicate with foreign clients. From Mougins to Monaco, via Cannes, Nathalie Ludwig's luxury renovation and decoration projects are mostly carried out on the French Riviera for villas or apartments.
From recommendations to recommendations between demanding clients looking for perfection, Nathalie Ludwig's talents have also been exported to London and as far as Kuwait. More occasionally, she has also decorated yachts in Cannes, a clinic, a chalet and even an airplane cabin and various hotel projects.
Nathalie Ludwig's showroom in Mougins reflects the warm and refined atmosphere that she knows so well how to create in each interior. One finds the alliance of an original beauty, sober in places, ornate in others, where one simply feels good, as at home, in an elegant universe.
Her clean and elegant style blends into a comfortable atmosphere that she enhances with small personal touches. Delicately placed in carefully designed nooks and crannies, the works of art exhibited in her showroom are also selected according to her own personal favorites.
Open every day of the week, the Mougins showroom is a place where you can exchange ideas and discover materials, furniture, fabrics, lighting, photos and sculptures, allowing
Photos : F.Ducout